As spa and medi spa business owners, you have plenty of opportunities throughout the year to maximize your revenue with gift card and promotion sales through special occasions and holidays. Fortunately for the industry, there are many special days that are conducive to giving, such as Valentine's Day, Mother's Day, Father's Day and Christmas. Some spa professionals wait until the last minute to plan promotions and marketing campaigns, and therefore miss out on maximizing their success.
Do you know what percentage of your revenue is generated from gift card sales? According to a recent survey we conducted, about 10 percent of spas generate as much as 40 percent of their revenue from gift card sales. Make sure you are not missing out on this golden ticket. Let's review 13 effective planning steps and marketing strategies to increase your gift card sales exponentially and smile all the way to the bank!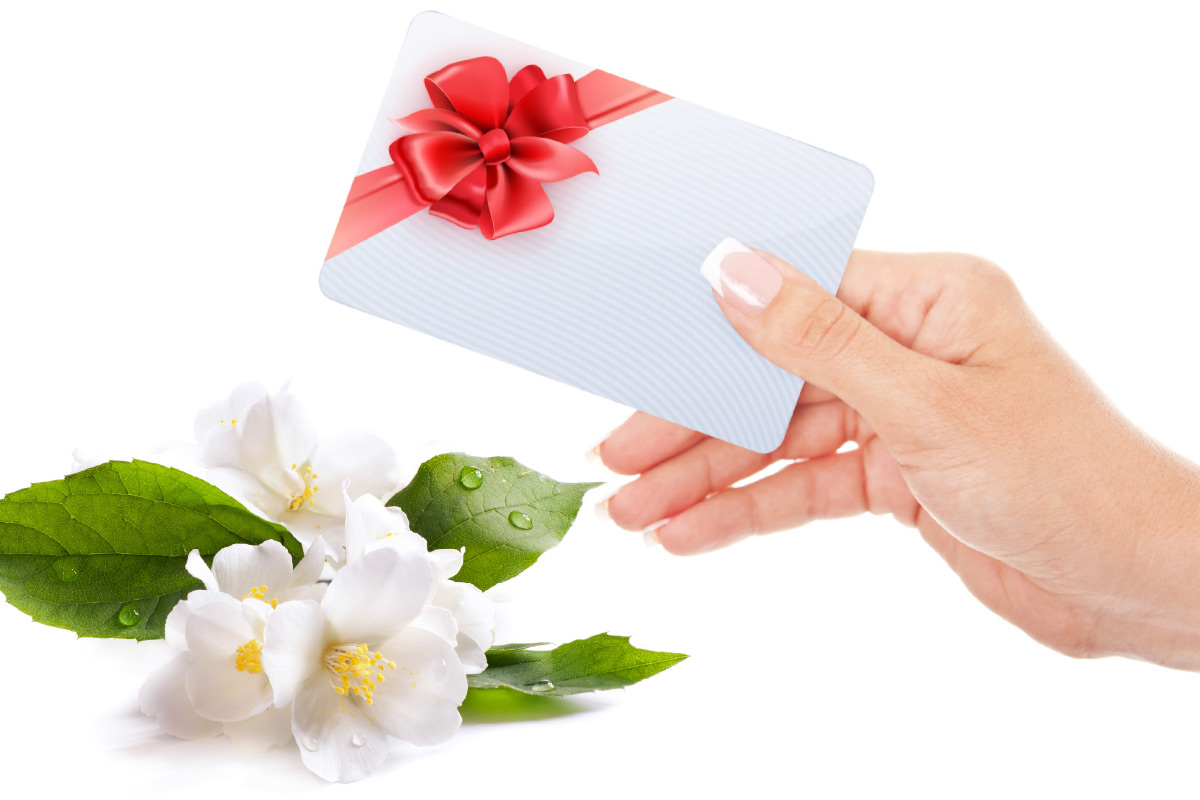 "People don't plan to
fail

, they fail to plan."

It all starts with planning. The sad truth is that a lack of planning is one of the most costly mistakes spa professionals make. They don't plan far enough in advance to maximize their potential. This oversight is not intentional — most professionals wear many hats and are pulled in a number of different directions on any given day. They want to plan but they run out of time, then go into reactive mode. Unfortunately the result is that they don't reach the revenue goals they desire. Don't let that happen to you! Implement the following strategies to increase your gift card sales and special holiday promotions!
Marketing Calendar: Start by creating a Marketing Calendar. Outline all special days and work 45 to 60 days in advance. This helps you with the planning process and gets your promotions out in a timely manner. Example: Let's say Mother's Day is on May 14th. You should have everything ready to launch by April 14th. That means you need to start planning by April 1st. This schedule allows plenty of time to come up with great promotions and campaigns. It provides a full 30 days of selling your promotion to maximize your efforts.
Preparing Your Promotions: The best way to plan and prepare your promotions is with your spa team. This gives you an opportunity to engage them, give input and team buy-in. This action gets the team excited and helps them sell more. Include a theme when planning your gift card and promotion strategies.
Vendor Relations: Ask your vendors about their offers and annual promotions. This helps you include a special gift with purchase items and adds retail revenue opportunities to your gift card sales and promotions. Ask them for complimentary items to pass on to your clients as an added value.
Don't Give Away the Farm: A promotion is not an occasion for deep discounts. It can be a special experience that you don't normally offer on your menu. This allows you to charge what you want without deep discounting. You can include multiple treatments, retail sales, gift card, etc. Create three different price points (high, medium and low) to capture a wide range of your market.
Make it Festive and Noticeable: Decorate your spa. Set up an area to feature your Mother's Day promotion. Place it in a high traffic area so everyone sees it. Create a flyer and place it in a picture frame, or use an electronic frame to feature it. Show the products, the gift card, the treatment, etc. The offer should be easy for everyone to understand. It should look so amazing that they can't resist. Use the theme to decorate your spa.
Campaign Length: Always run your campaign for a full 30 days. Make it worth your time.
In-spa Marketing: In-spa marketing is a very economical way to promote your specials. You can do simple things like creating buttons for the team to wear, with an encouraging statement like, "Give Your Mom a Special Gift! Ask Me How!" It starts a conversation so the team member can tell the client about your special. You can place posters, flyers, video loops and banners on your display station. When you combine all these marketing strategies with scripts the team can use to promote your specials, you reach your goals easily.
External Marketing: To maximize your success, do external marketing to bring greater awareness to your promotions. Update your website, create a postcard, send an email blast. Focus on social media such as: Facebook post and ad, pictures for Pinterest, LinkedIn post, Instagram! Write about it in your newsletter. You may also want to do a direct mail piece, a YouTube video and more… Create opportunities for people to share your post, spread the news about your promotions and make it viral.
Promote Your Campaign to New Consumers: Don't just market to your database! Reach out to new consumers via Facebook Marketing. Create an ad to run on Facebook to reach out to non-clients, generate new gift card sales and new clients.
Lasting Promotions: When promoting days such as Mothers' day, Valentine's Day and so on, the last thing you want is to limit sale opportunities for just that actual day. Your campaign should include an offer to use up to 30 days prior to the actual day. Charge a premium for the actual day of the holiday. Offer added value for the rest of the days leading up to the actual date. This gives you more opportunities to maximize your revenue.
Online and Offline Sales: Don't limit your sales for in-spa only. There are great opportunities with online sales. Create a landing page on your website for people to view your Mother's Day offer and give them the ability to buy it online. If you don't know how to create landing pages, you can reach out for help from marketing companies. Online sales can be huge when done properly.
Guest Experience and Touch Points: When you create special promotions for Mother's Day, it is important to have a special touch point to enhance the experience and get them to say "WOW". Go beyond the norm to develop protocols the team can follow to impress your guests and maximize revenue opportunities. Make sure you train your team on the experience.
Inform and Train Your Team: It takes a team effort to reach your goals. Your team must be informed and trained. Set goals as to how many promotions you need to sell and what revenue you would like to reach. Measure it daily — do NOT wait until the end of the month when it is too late.