DAMIEN CRAFT was born into a family of spa professionals, and knew from an early age that he would be involved in the spa industry. At the age of 18, Craft became a certified massage therapist and soon after held lead positions in day spas and health clubs throughout the Central Coast of California. With more than 20 years of spa experience, Craft has held senior management positions at numerous high-end resorts. He is now based out of Four Seasons Hotel Westlake Village, the largest spa in the Four Seasons Brand, and he oversees every aspect of operating this 41,000 square foot facility. Craft currently holds the title of Senior Spa Director for the Americas for Four Seasons Hotels and Resorts. In this position, Craft has direct oversight of eight Four Seasons properties in five different states.
JUST FOOTSTEPS AWAY from the vibrant streets of Lower Manhattan, The Spa at Four Seasons combines high-technology treatments with luxurious, natural products specifically designed to indulge the body and the mind. This urban-chic retreat is the perfect mix of luxury, comfort and style as its exceptional staff works together to create customized experiences found exclusively at Four Seasons Hotel New York Downtown.
In this haven of beauty and wellness, cutting-edge spa therapies find harmony with science and nature inside the heart of Downtown New York. From serene massages to lavish skin care, this retreat escape is a place of well-being and tranquility, perfectly reflecting the energy of the world's most dynamic city.
SIGNATURE TREATMENT
The spa offers several luxury skin care and body ritual treatments to ensure their guests attain the highest level of relaxation. A particular body ritual that the spa practices, the Luxury Chardonnay Ritual ($455, 120 minutes), is a full body bliss treatment that includes an antioxidant body scrub and wrap. The spa suggests this particular treatment to clients battling aging and to those seeking a glowing and rejuvenated appearance. Using the grape seed extract of Chardonnay, which has powerful anti-aging properties to bring a glow to the skin, the treatment begins with a full body scrub that lasts about 30 minutes. Following the scrub, the spa therapist applies an antioxidant defense body wrap to pull out impurities; during which the client receives a nourishing scalp massage. The treatment concludes with a 50-minute full body massage using pure Chardonnay oil.
TRAINING
The Spa at Four Seasons New York Downtown has designated trainers in each area of the spa from the reception area to the locker room. These trainers are put through the spa's extensive training program themselves. "Training is the foundation on which our company was built," states Damien Craft, Four Seasons' Senior Spa Director for the Americas. Departmental trainers are full time employees and each has an elected area of the spa in which they are stationed.
Craft continues, "They are working side by side with their peers and are there to ensure that everyone is achieving the standards in their area. They coach in the moment." For example, if a front desk agent forgot to thank a guest on their way out, the designated trainer coaches the employee that they missed a particular standard and provides examples of ways the staff member can ensure that they do not repeat the same mistake.
The spa also reviews staff performance on an ongoing basis and conducts full standard tests with each employee a minimum of twice a month. These performance tests are scheduled with each employee to assure they are not only up to par on the services the spa provides, but that they are exercising impeccable customer service techniques and habits. Performance tests are recorded and assessed during each employee's annual review. The spa's technology includes several software programs that track the progress of three categories: people, product and profit; new goals are set periodically based off of those statistics.
Finally, the spa also utilizes their resource partners to come and train the treatment staff on the products they use. "This is effective because we learn directly from the source and gain in-depth knowledge of not only the products, but the stories behind the products. This allows our staff to be expertly informed on all aspects of the product line and builds a high level of trust with our clients," Craft states.
To guarantee dedication and enthusiasm from employees, Craft offers the staff incentives based on who they are and their particular interests. He comments, "Some may like treatments, some may want products and some prefer cash bonuses."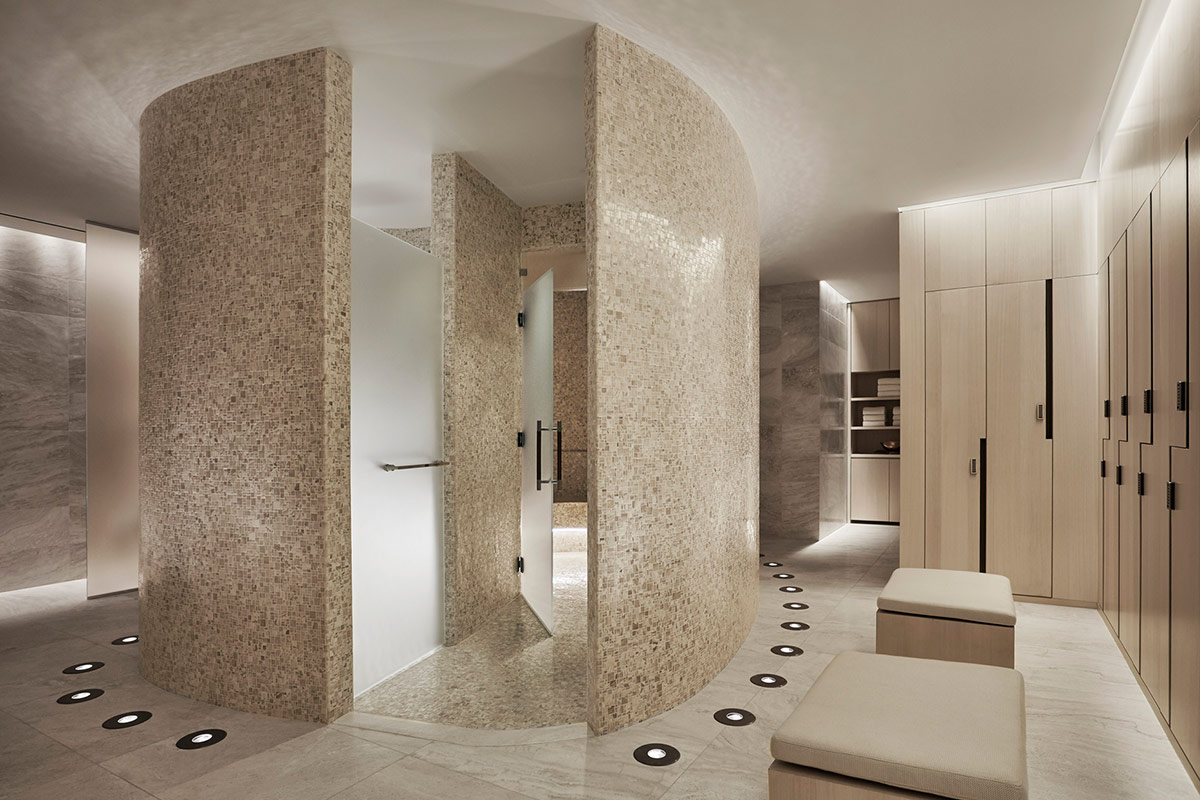 MARKETING
Because the spa is affiliated through the worldwide Four Seasons Hotel Corporation, they have the ability to reach an extensive number of existing Four Seasons travelers through their expansive database. Though in today's market, it is essential to have a presence on social media sites including Facebook and Twitter, which is why the spa has acquired a dedicated team to promote special offers and promotions through all outlets. The Spa at Four Seasons New York Downtown also prides itself on the "word of mouth" method, assuring that each guest is provided a worldclass experience upon each visit. "By delivering services of the highest caliber to our guests we can assure they are telling their peers, which translates into repeat and new business for the spa," Craft mentions.
SPECIAL
EVENTS

AND

PARTNERSHIPS

During their annual marketing and budget strategy meeting, the spa owners and staff discuss new ways to evolve their menu and offerings; revisions and improvements are implemented for each following year. Spa owners also discuss four upcoming seasonal treatments that change each quarter at this time. The spa also plans something special each year for Valentine's Day and Mother's Day.

In addition, the spa also partners with a local clothing line to help crosspromote their brands. "Their vision of luxury skills and cashmere were a perfect fit with the expectations of quality that our guests expect from a Four Seasons experience," Craft states. The spa partners with the owner and the designer of the clothing line to create a variety of trunk shows throughout the year.
RETAIL
When selecting retail brands, The Spa at Four Seasons New York Downtown conducts extensive research to find the perfect combination of luxury, exclusivity and local presence. The spa staff visits several trade shows each year to consider new products to bring on board and also attends fashion shows during market season in New York, Los Angeles and Las Vegas.
The spa is the only hotel spa in the U.S. that carries the specific products that they do. "We want to provide services that our clients can only receive in our spa," Craft mentions. The spa also carries wellknown product lines that combine the finest minerals, vitamins, essential oils and natural ingredients sourced from around the globe.
To incentivize clients to purchase their retail products, the spa offers one small, traditional gift with each purchase, such as a product sample. During the holiday season, they include an item with their logo with the purchase of a gift card and give spa credit for future visits if a certain dollar amount is spent for the particular retail purchase. "These have all been very effective methods of retail sales in our spa," Craft commented.